Corporate Profile
One of Nagaileben's features is seeing society widely. We have contributed to society to to globally, such as environment efforts, job creation for women or local community, ability development or life circle improvement in overseas.
The realization of stable growing and sustainable company is social expectations for Nagaileben. We have become a characteristic leading company as below.
● 100th year in business from 1915
● Establish competitive position in medical clothing market
● Several thousand variety of items
● Competitive product such as extensive products, custom-made program
● Wide field, planning, manufacturing and marketing
● Approximately 60% market share in Japanese market
● The number of shipments is over 6 million clothing a year for 3.7 million medical workers.
This is the result of Nagaileben's approaches to customers and society. The raison d'etre of company is being loved by everyone.
Nagaileben's goals are "pursuing human's comfort in various fields" and "pursuing comfort in professional manner". To make the goals a reality, what are necessaries? It is the concept of our CI.
The necessaries to make human comfort. The energy source for them. The essential when people behave for other. The affectionate to life. The consideration for love. The system supports all of these things.The three ovals in our CI have above meanings.
Furthermore, CI represents the existence of Nagaileben, through huge filtering of generation and spirit.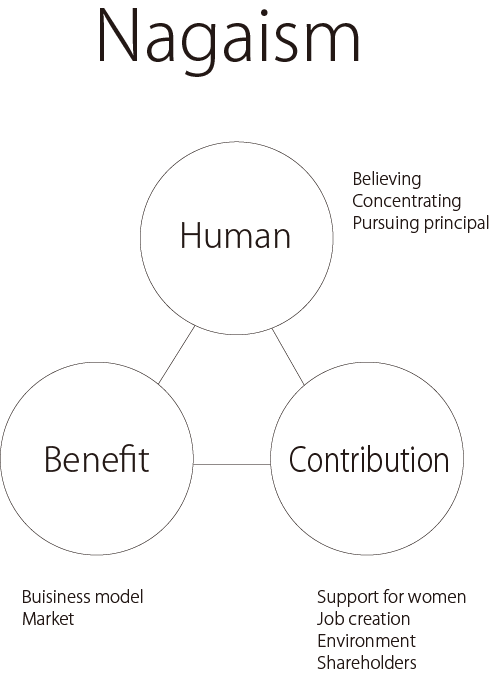 Highly profitability and strong balance sheet

Gross profit to sales 43.9%
Capital-to-asset ratio 91.1%
ROE  7.5%
(as of FY2023)
Corporate Date
Corporate name
Nagaileben co., Ltd.
Fiscal Year
September 1 to August 31
Annual meeting of stockholders
Within 3 months after the next day of fiscal year end
Record date
Every August.31
Number of shares in one trading unit
100 shares
Securities code
7447
Listed market
First Section of Tokyo Stock Exchange
Headquarter location
2-1-10 kajicho, Chiyoda-ku, Tokyo, 101-0044
Incorporated
July.20, 1950
Capital
1,925,273,475 Yen
Employees
126 people, 511 people (consolidated) As of August.31, 2023
Business offices
Headquarter
Nagaileben distribution center
Nagaileben Second distribution center
Nagaileben West Japan distribution center
Hokkaido branch
Tohoku branch
Nagoya branch
Osaka branch
Hiroshima branch
Takamatsu branch
Fukuoka branch
Taipei branch
Affiliate company
NAGAI UNIFORM INDUSTRY co., Ltd
Officers
| | |
| --- | --- |
| Representative Director and President | Ichiro Sawanobori |
| Managing Director and General manager of Corporate Planning | Nobuhiko Saito |
| Director and General manager of Purchase | Katsuji Asai |
| Director and General manager of Planning | Yasuyoshi Yamamoto |
| Director and General manager of Sales | Kinya Shintani |
| Director and General manager of Administration | Hiroyuki Yamamura |
| Director(full-time) Audit & Supervisory Committee Member | Kazutaka Ogino |
| Director Audit & Supervisory Committee Member | Kota Mishima |
| Director Audit & Supervisory Committee Member | Emiko Noguchi |